Learn the language of your intuition.
The ancient, archetypal symbols of the tarot offer a timeless resource as dynamic and meaningful as any language. As a teacher and tarot reader with a background in linguistics, I believe that this system of intuitive communication can be available to anyone. If we understand how to engage with it, the cards can help us to connect with our own inner wisdom and provide a powerful medium for soulful conversation with ourselves, as well as offering a unique tool for creativity, healing, storytelling, and personal development.
The concept behind this course is to approach the system of tarot the way that we would approach learning a new language. Just as you wouldn't read a dictionary in another language and expect to be able to have a fluent conversation, a dynamic and nuanced tarot reading requires more than just static memorization. This course approaches tarot as a collaboration between you and the cards-- a skill acquired through practice, play, and active listening.
Over the course of eight units, you will develop a foundational understanding of the tarot as a dynamic system, developing the necessary tools to build your own authentic personal practice.
Each unit breaks down the "grammar" of the tarot into an understandable system, as well as looking at each of the individual cards in depth, gradually covering the deck in its entirety. In this way, you will develop a sense of how the tarot works as a whole without needing to memorize. As you get to know the many layers of meaning within the cards, this information is then applied in the context of increasingly complex readings or spreads. Through a variety of exercises, games and assignments, you will ease your way into a practical application of your growing tarot knowledge, actively working with the cards and developing the ability to intuit in the moment.
This course is for you if...
+ You've always been curious about tarot, but don't know where to begin. +
+ You're familiar with the cards but never go beyond a simple "card of the day" draw. +
+ You want to build your skill as an interpreter and give readings for others with confidence. +
+ You want to connect more deeply with your intuition, creativity, and personal power. +
+ You want to develop an intuitive tarot practice that is 100% yours. +
You will learn...
+ All about the 78 cards in deck and how to interpret them fluently. +
+ How number, suit, and gender work as symbolic systems within the deck. +
+ How to apply that knowledge in the context of a variety of complex practice spreads. +
+ How to use the cards as an artistic tool to unlock creativity, inspiration, and imagination. +
+ How to read for another person with confidence and create your own unique spread. +
+ What methods, habits, and practices work best for you in your practice. +
+ How to use tarot as a tool for personal development and healing. +
This course is for everyone, regardless of experience level or background.
There is no prior knowledge of tarot required.
Whether your practice is spiritual or secular, traditional or experimental, solitary or social, this course provides a space for you to cultivate fluency with the cards and develop a rich and rewarding working relationship with the tarot.
Client Feedback
When I enrolled in the Paper Mirror Language of Tarot course, I had already had several deeply insightful readings with Stacey. I was incredibly intimidated by the Tarot deck, and I was pretty convinced that even if I learned the meanings of some of the cards, I would never be able to interpret them on my own.
This course helped me exceed all my expectations for myself and confidently give readings to myself and others. Despite my nervousness, Stacey gently encouraged me to give readings, both for her and for other friends who are not familiar with tarot. It came as a shock when I was able to interpret the meanings of the cards I pulled, and my querents confirmed that the readings provided the insight they needed.
I think I was able to succeed for two reasons. Firstly, Stacey's notes on each card and the stories in the deck are incredibly deep and detailed, much more so than other videos or books I've used in the past. She guides students through a close observation of the cards, as well as the emotions that the cards evoke. Her method helped each card leave a greater impression in my memory, so I retained the meaning of all 78 cards in the deck.
Secondly, Stacey's one-on-one tutoring sessions invite students to begin conducting readings from the very first week of the course--even before all the card vocabulary is covered. She does provide help when an unfamiliar card appears, but she also guides the student to observe the details in the card, and listen to their intuition. This practice of sharpening my attention to my intuitive responses has made me much more confident in my tarot readings--and so much more accurate too.
I am so glad and grateful I took this course; I could not have learned tarot without it. I still am happy to get a reading from Stacey, but this course has given me the tools for more frequent self-reflection, and to share tarot with others in my life.
— Stephanie
This course was so thoughtfully planned and organized I was shocked and highly impressed. The material is more thorough than most of my college courses- definitely a steal for the price and worth every penny!! With my busy schedule, it was so helpful that I could work through the course at my own pace, and not have to feel stressed about falling behind. And such a comfort to know I'll always have access to this material for reference in the future! The blend of resources in recordings, readings, photos, and videos was also quite convenient and helpful.
As for the content- Stacey's approach to tarot as a language really resonated with me. Tarot does feel intimidating in practice, similar to speaking in a new language, so treating it as such was a very encouraging and supportive system. Stacey has a great balance between supplying you with all the in-depth resource material in which you could possibly care to immerse yourself, and nudging you out of the books into real world practice as early as possible. The language method also allows for and encourages your own individual interpretation as a tarot reader, which you can express freely through Stacey's helpful framework.
I highly recommend the course to anyone on any level of their tarot journey!
— Courtney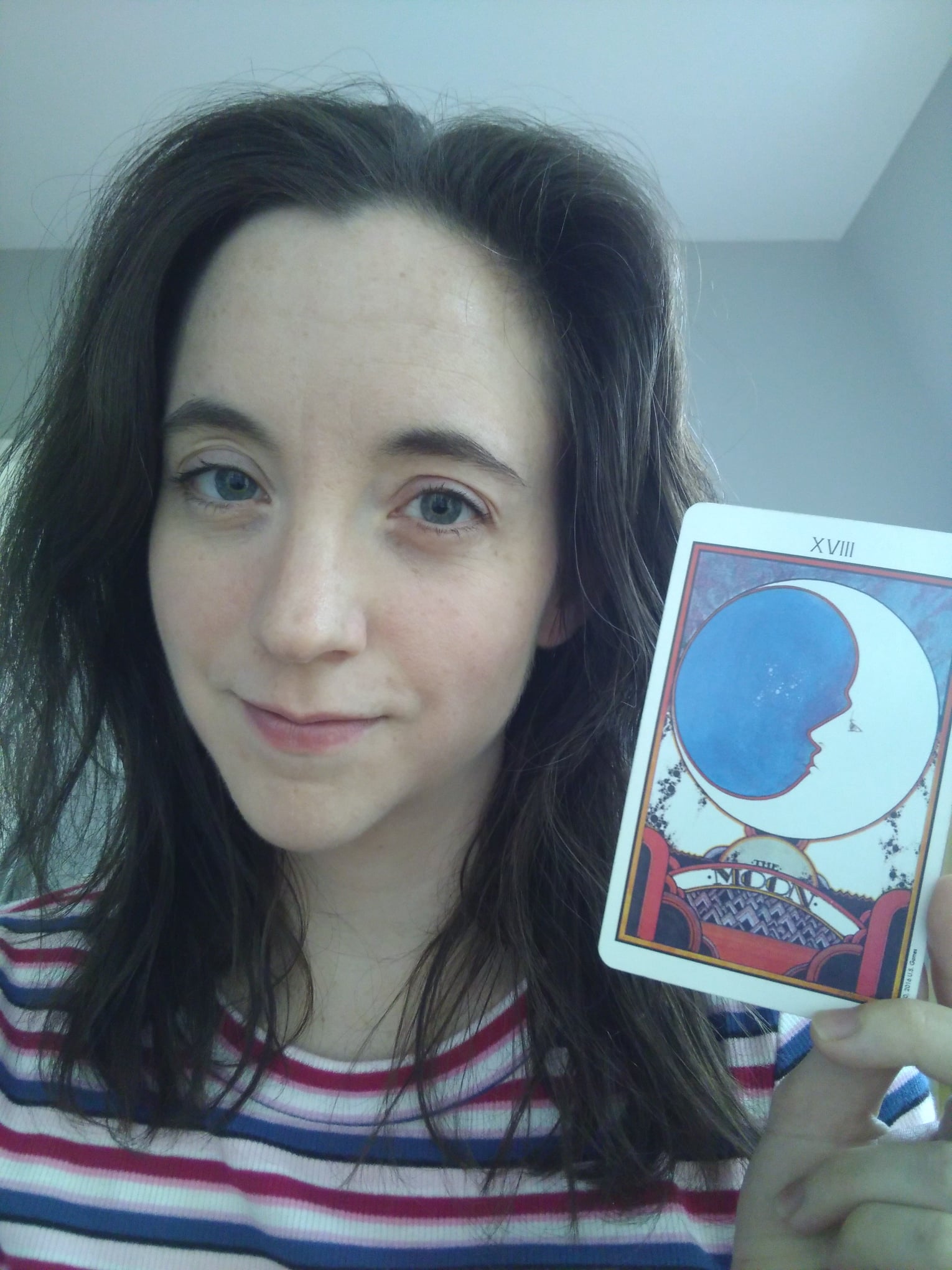 My practice is based on the belief that the cards are a mirror, not a crystal ball. They provide a window into ourselves to remind us of what we already know, rather than to reveal the unknown or unknowable.
Thus, my mission as a reader and teacher is to help my clients connect to their own intuitive compass and make decisions from a place of confidence, power, and trust.
I believe that tarot is a tool available to anyone, and which has the potential for healing and transformation on both a personal and collective level.
With a Linguistics BA, ten years' teaching experience, and an 8-year-old private tarot practice, this course draws on my unique skill-set to make the learning process as dynamic, accessible, and effective as possible.
My ultimate goal is to demistify the tarot and make this powerful tool available to all who feel drawn to it.